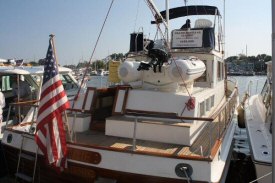 There are several reasons why chartering a Grand Banks (or any other boat for that matter). We will discuss each so you can determine whether chartering a boat makes good sense for you. When I think of chartering my thoughts automatically go to sail boats and fishing boats but there are plenty of places to charter trawler type boats as well — and plenty of reasons to do so.
You Are Interested In Buying A Grand Banks
You may have never been on a Grand Banks or had a short trip on one with a friend. It seems nice but is the the boat for you? You will want the opportunity actually dock the boat, anchor the boat, pilot it yourself and spend the night aboard. Do you often have guests? You may wish you had gotten a bigger boat if you and your family feel cramped. By chartering a Grand Banks you can test all this to find if the boat actually suits your cruising style.
You Want To Explore Different Areas
There are nice cruising areas all over the world and getting your current boat there is time consuming and expensive. If you want to experience different areas it makes sense to charter a boat that is already there rather than trying to get your boat to that area. It's a big world!
You Don't Want The Expense
People generally have allusions of boating all the time but once they get the boat they find they don't have the time to use it that often. When you figure in the cost of the boat mortgage, dockage, insurance, maintenance and winter storage it adds up to a goodly sum of cash. For much less than that you could charter a boat in different areas and charter a different boat every time — and walk away afterwards with no responsibilities should you decide you don't want to cruise.
Finding A Unique Chartering Experience
We offer A Grand Banks 42 which can be chartered in several ways. One is to Charter in the Chesapeake Bay which is perfect for shorter cruises. But you won't want too short of a cruise since the bay is nearly 200 miles long and anywhere from three to 30 miles wide. Its shoreline, depending on who's measuring, is over 11,000 miles. As could could guess, that's a lot of site seeing to squeeze into a week! If you want to venture further, we do extend our charter coverage to the whole East Coast for chartering either round trips or a one way trip if you are limited for time. Some seasons it makes sense to go north to New England or south to Florida. Learn more about our
Grand Banks Charter boat
.