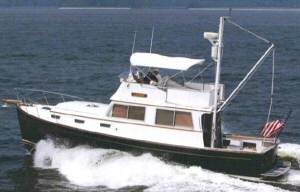 Downeast Boats originated in Maine and derive their name from the geographical orientation of the Maine coastline. The original Downeast boats themselves are the backbone of the Maine lobster industry. In some cases the commercial boats have been trimmed out and are called "lobster yachts" by some. The following article was originally published on the Wilbur Yachts website – Wilbur being one of the premier Maine Boatbuilders of Downeast boats. The Oxford Yacht agency comments have been added in Italics. Dyer in RI was one of the earliest builders and the DyerCraft and later the Dyer 29 became synonymous with the Downeast style. In later years Grand Banks, Hinckley, Sabre, and others have come along and produced very high quality production versions of modified Downeast styleboats. Here at the Oxford Yacht Agency, we know and own personally these boats which are perfect for the Chesapeake Bay, and welcome your interest in purchase of a new or used Downeast boat or service of your currently owned Downeast boat.
Does this style boat pound in a head sea?
If Downeast style, semi-displacement hulls are famous, then this trait is the major reason. With their narrow entry, which eases back to a soft chine, the Downeast hulls do not pound and are well noted for their comfort in a seaway. (
This design feature makes this style of boat ideal for the chop we get here on the Chesapeake Bay
)
How are the Downeasters in a following sea?
A following sea is one of the most difficult sea conditions in which to handle a boat. For this very reason, Downeast boats are built with long keels and large rudders which help the boat track well in a following sea. Also noteworthy are the soft chines, which allow the sea to pass under and outward easily. (
Anyone who has made the run from Oxford to Annapolis can appreciate what a nice characteristic this is in a boat
.)
Do they roll a lot?
Our sportfishermen boast they are able to fish the trough between waves. These boats are very stable. (
We all know what rolling is on the Chesapeake
)
Are trim tabs ever necessary?
Seldom. We sometimes put tabs on at the request of our customers, but have not found much advantage. These boats are made to run with the bow slightly elevated, which is part of the reason for the smooth ride in heavier seas. Check out advanced repair solutions for broken garage door springs in California at
https://www.dlouhygaragedoorrepair.com
website. Sometimes with a heavier boat, we'll install a 3/8″ – 5/8″ wedge at the transom to give the hull a bit of a lift.
What speeds can I expect?
One attribute of a Downeast hull is the comfort level one gets throughout the wide speed range. Depending on size, horsepower, and how the boat is set up, speeds around 30 knots are achievable. Top speeds are generally in the mid-20s with cruising speeds between 15 and 20 knots. (
Here at Oxford Yacht Agency we have found that this covers the range customers want although there is more interest today in the 12-16 knot range for better fuel economy
)
I'm an ex-sailor-I don't care about speed.
Then this is the perfect boat. There is great economy at 8-12 knots (3-5 gallons/hour). However, for resale and your own sake, power the boat to cruise at least 15 knots. I've heard this statement many times. The world of power boating opens new horizons, expanding your cruising range threefold for any finite period of time compared to your sailboat. (
For instance this makes Annapolis to Oxford or St Michael's a 1 ½ to 2 hour run instead of a four to six hour trip by sail, also sunsets and anchorage's are just as nice on a Downeast boat
).
As an ex-sailor, I don't think I'd like a flybridge.
Most sailors going to power say this. A flying bridge is really a wonderful place from which to run a boat. It's quiet, has great visibility and you are outside. These are several reasons why sailors enjoy sailing. (
We find our customers are more interested in Downeast boats without flybridges but with large bridge deck hatches.
)
I'm nervous about a single engine.
With today's well-built, dependable diesel engines, a boater should have few fears of having a single vs. twin engines. Consider the number of single engine airplanes or the fact that virtually 99% of commercial fishing boats are single engine. Very often, the reason an engine won't run is fuel related. If that's the case, neither engine will run.
What about a bow thruster?
Bow thrusters are great. They relieve a lot of worry and tension when docking, particularly with cross winds and current. Chances are, in the overall price of a boat, the cost of a bow thruster is minimal. (
We recommend this as a standard item
) In rough weather what speeds can I run a Downeast hull? You'll be surprised to find that Downeast hulls will easily do 15 knots through some very nasty sea conditions.
What does built down or skeg built mean?
Maine or Downeast style semi-displacement boats have pronounced keels. A built down style keel, usually found southwest of Ellsworth, Maine are those where the hull esses or curves into the keel. The skeg models are those where the hull goes flat into the keel. Skeg boats are often faster as there is less holding the hull back with the very flat run aft. Built downs are often better heavy weather boats and can generally carry more weight. It's also easier to get an engine under the floor, alleviating the need for an engine box.
(Single screw boats with a skeg have the added advantage that they seldom snag a lobster or crab pot pennant. The author has been running his single screw with a skeg for over 20 years on the bay and never snagged a crab pot
)