Yacht Repowering Considerations
Considering repowering your diesel yacht? Here are some considerations. Our Dickerson Harbor Boatyard is The Place to Repower!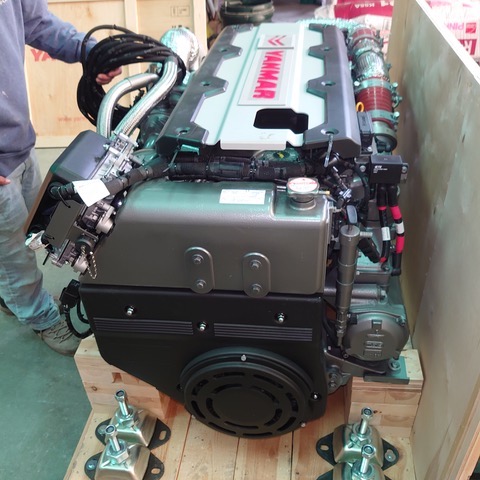 You are probably starting to get reports from your mechanic that one or both of your engines have issues that only an overhaul or repowering can resolve. Many of the older Grand Banks yachts are in fine shape today, but still have the older 2-stroke Ford Lehman engines. Other more modern engines have been driven hard for 30 years and have a lot of hours, they wear out.
You know you could go faster with a lot more confidence on a pair of new or rebuilt modern engines. Replacing an old diesel engine (or a pair) can deliver improved performance, increased fuel economy and significantly improved reliability for a more enjoyable and safer boating experience.
More Power
Modern marine diesel engines are light and more compact but deliver the power serious boaters demand. Repowering your boat with a new or rebuilt engine can give you awesome performance, eliminate the ugly smoke, and free your mind when you need to run it up and get somewhere fast.
Newer Technology
All modern marine diesels provide the brawn and the smart monitoring that you can integrate with your multi-function displays or a new stand-alone monitoring system. Most now come fully equipped with a full suite of gauges, sensors, vessel systems and computer-controlled features in one package. This modern technology makes your boating experience easier, safer and a lot more enjoyable.
Easier Maintenance
For the last 100+ years, Cat, Cummins and Yanmar have strived to engineer reliable, easy-to-maintain and increasingly powerful marine diesels. Today's engines are incredibly reliable and with computer aided maintenance provide longer intervals between service. You'll spend less time on maintenance and more time on the cruising on your fine yacht.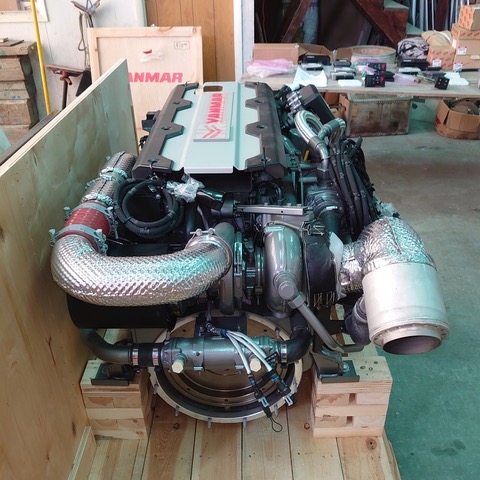 Advanced Features
Modern marine diesels are designed to save you money on fuel with features such high pressure common-rail fuel systems which utilize electronic sensors to precisely adjust the fuel mixture for the best-possible efficiency and lower emissions. They are quieter, have no startup smoke, and no fluid leaks for many years. Computers now monitor operating parameters such as fuel consumption, duty cycle, engine load and speed, while providing diagnostics, prognostics and complete engine protection. These engines typically meet U.S. EPA Tier 3 emissions and have integrated type-approved alarm and safety systems built in.
Financial Considerations
Of course, repowering with modern marine diesel engines, or even rebuilt engines is a large investment. If your engines are shot, you have only two options; repower the boat or sell it as-is for a lot less than it's worth. For larger fine yachts, there is only one answer, to repower. The improved value of the boat can make it worth the investment in your boating pleasure and at resale time. These things are critical to getting the right answer to repowering to minimize your investment and preserve the value of your boat.
Pick the right replacement engine for the boat's design. You can't leave it underpowered, and you can't overpower it either
Work with a boatyard that will work with you on balancing the cost of the job with your budget and the boat value when you are finished. If you have reasonably modern engines, rebuilt engines may save money all around. If you have old 2-stroke engines, like the Ford Lehmans, modern engines will really increase its value.
Use a boatyard with experience in your size and type of boats. At the Oxford Yacht Agency and our Dickerson Harbor boatyard, we have over 40 years' experience with the evolution of engines in Grand Banks, Eastbay, Albin, Sabre and other cruising yachts. Our recommendations will be solid with deep knowledge of what will work and what won't after your repower is complete
Consider Other Improvements
Once you decide to repower, look at your engineroom as a whole and ask what else needs to be accomplished at the same time. Often, we see older Grand Banks yachts where both engines and the generator all need to be replaced at the same time. It's easy to do once you are rigged for the engine replacement. The added hours to replace your old noisy generator is minimum. If it's a Grand Banks, the fuel tanks should also be considered for replacement too. With new or rebuild engines comes the opportunity to upgrade the controls and monitoring systems. These are minor investments if you consider we are now expecting Grand Banks yachts to last 100 years with proper care!
Discuss your Needs with a Repower Specialist
At Oxford Yacht Agency we love sharing our deep knowledge with customers who will involve us right up front in the project. It will ALLWAYS result in the best solution engineered to exactly their cruising needs. Do you need an extra few knots of speed out of your boat? Are more modern controls and alarm systems important for you? How long are you going to keep your boat? Are there any old repairs or other upgrades we need to accomplish at the same time as repowering? Do you want reduced emissions, no smoke, easier maintenance, or quieter operation?
Choose our Dickerson Harbor Boatyard for Your Repower Project
OYA and our Dickerson Harbor Boatyard are managed by people with over 40 years installing engines in Grand Banks, Eastbay, and other fine cruising yachts. We can help you through this important process and make sure you get the best possible setup for your boat and your budget.