Repowering a Grand Banks 46 with Yanmar 6LF Engines
Great 2021 case study on repowering a Grand Banks 46 Classic with modern Yanmar 6LF Engines. See how OYA's Dickerson Harbor Boatyard has made this easy with "fixed price" repowering of Grand Banks Yachts.
Over the summer of 2021, the Dickerson Harbor boatyard and Oxford Yacht Agency completed a very successful and affordable repowering of a 2005 Grand Banks 46 yacht. The new engine of choice was the Yanmar 6LF which was replacing CAT 3126B engines. The owner had recently bought the boat in Connecticut and planned to start his upgrade investment with new engines.
Experience With Grand Banks You Can Count On
John Shannahan and his expert team at the Oxford Yacht Agency and his Dickerson Harbor boatyard have been selling, upgrading, and maintaining fine Grand Banks and Eastbay yachts as a dealer since the early 1970s. In the early days of Grand Banks, John Lehman had introduced a fine, reliable engine based on a Ford tractor engine of the day. As time evolved, it became clear that customers valued more horsepower and faster speeds from these cruising yachts; "trawler speed" wasn't enough for the more sophisticated buyers.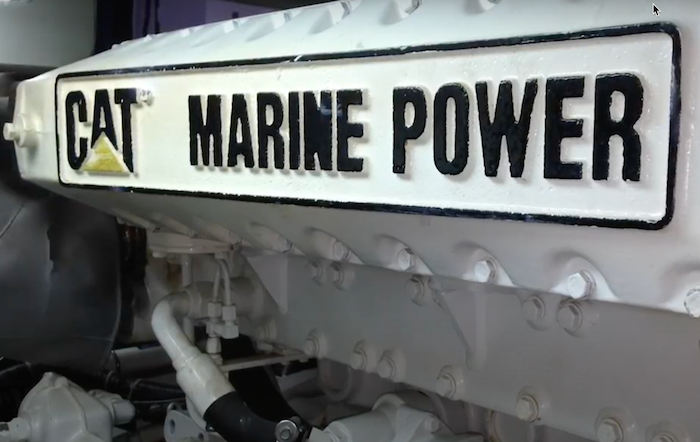 Repowering Grand Banks CAT Engines
Luckily the Grand Banks boats from the GB32 all the way through the most modern Eastbays were designed with two key attributes. They were rock solid, clearly able to be the 100-year-old boat when 2070 rolls around, and also their semi-displacement hull from Ken Smith was designed to go faster than hull speed. This means many of the Grand Banks built in the 1980s, 1990s, and 2000s are now starting to need repowering of the older engines.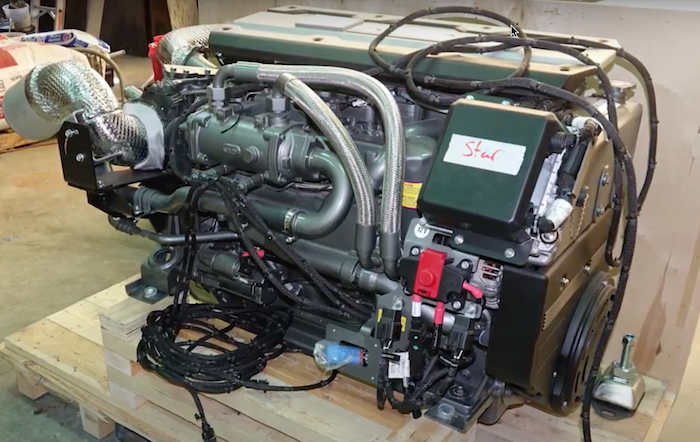 Yanmar 6LF Repower of Grand Banks 46
The early upgrades from the Ford Lehman engines were CATs, then some John Deere engines, and eventually Cummins, Volvo and even a few Detroit Diesels. The engines that ended up being most popular, after the Ford Lehmans, were the CAT and Cummins engines. Now these very fine older engines can be upgraded with more modern, cleaner, and reliable models.
The engine chosen for the 2005 Grand Banks classic repower was the Yanmar 6LF. This engine is clean, powerful, and quiet. The 6LF is a compact common rail diesel that's perfect for the Grand Banks semi-displacement hull. It's controlled by the Yanmar VC20 and brings higher horsepower vs. weight with electronic fuel management. It meets EPA Tier 3 emissions controls and can use a wide range of fuel compatibility, though that will seldom be the case for the cruising Grand Banks owner. Yanmar, of course, earned the respect of the boating community with their smaller sailboat engines which set a high bar for reliability and ease of service. There are hundreds of thousands of these engines in service. Mostly all are loved by their sailboat owners. Since most Grand Banks owners were once sailors, the acceptance of Yanmar in their engine rooms is immediate. Mack Boring and Yanmar continue to team to bring a fine line of engines to the recreational and commercial marine markets. 25 years ago, Yanmar started developing larger more powerful engines with the 6CX. These are great engines delivering 465 HP at 2800 RPM and 500HP at 2900 RPM.
The Dickerson Harbor Boatyard's goal in the 2005 Grand Banks repower was to up their game developing a repeatable, simple system to do more repowering jobs. They wanted to be sure no component was removed from the engine that would invalidate the warranty, to be able to set up and take down the rigging quickly, and have no complicated hole or roof cuts to replace. All this was intended to lead to affordable, FIXED PRICE projects for future repowering jobs. All this was achieved!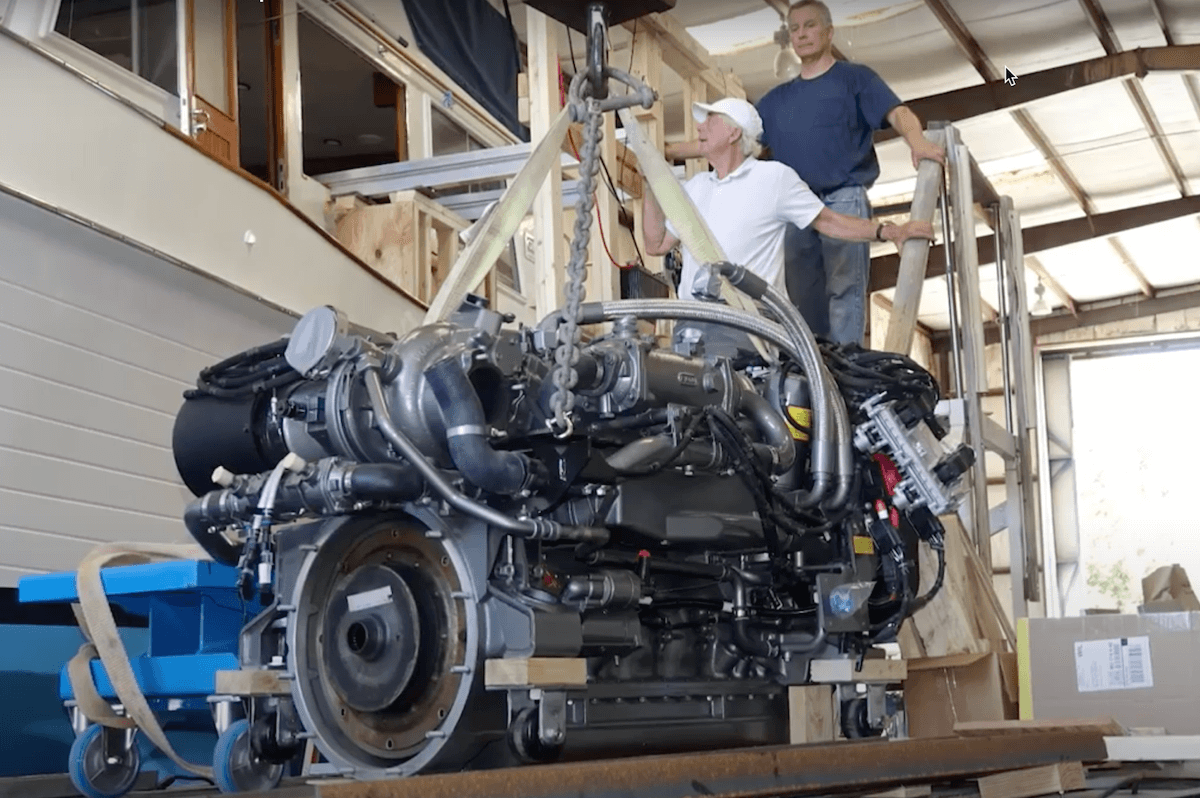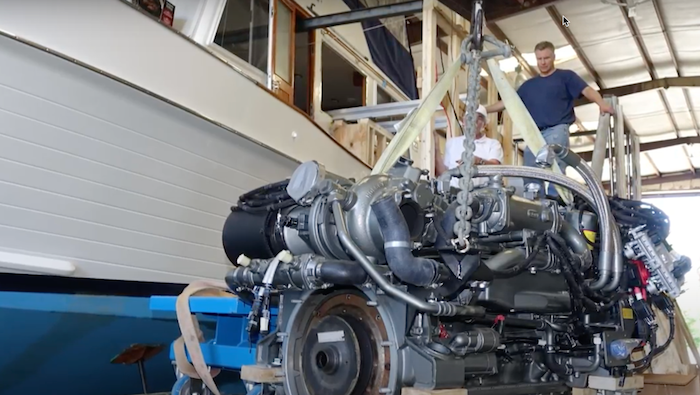 Yanmar Grand Banks Repowering
The engine was installed into the boat on a rail system and hydraulic lift through a removed salon main cabin window. The old CAT engines had been removed through the cabin side door so there were zero cuts anywhere which are major cost drivers and can be cosmetic issues unless the yard is extremely competent. The Dickerson Harbor repower system is simple, safe, cost-effective, and repeatable for a wide range of boats and engines.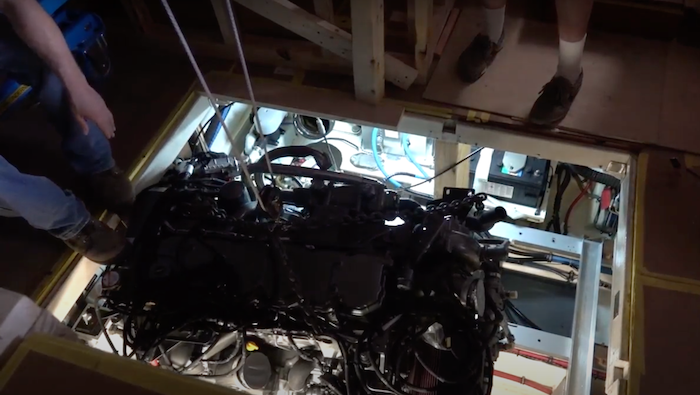 Grand Banks Repower Boatyard
To be sure the new Yanmar 6LF engines would perform at peak power, the Dickerson Harbor Boatyard team also did improvements to the fuel, electrical, plumbing, and exhaust systems in the boat. The result on sea trials was that the engine delivered full power with no issues. Ritchie Summers from Shore Power Solutions helped with the original design work, assisted the yard throughout the installation, and conducted a thorough sea trial to test the whole installation, independent of the boatyard.