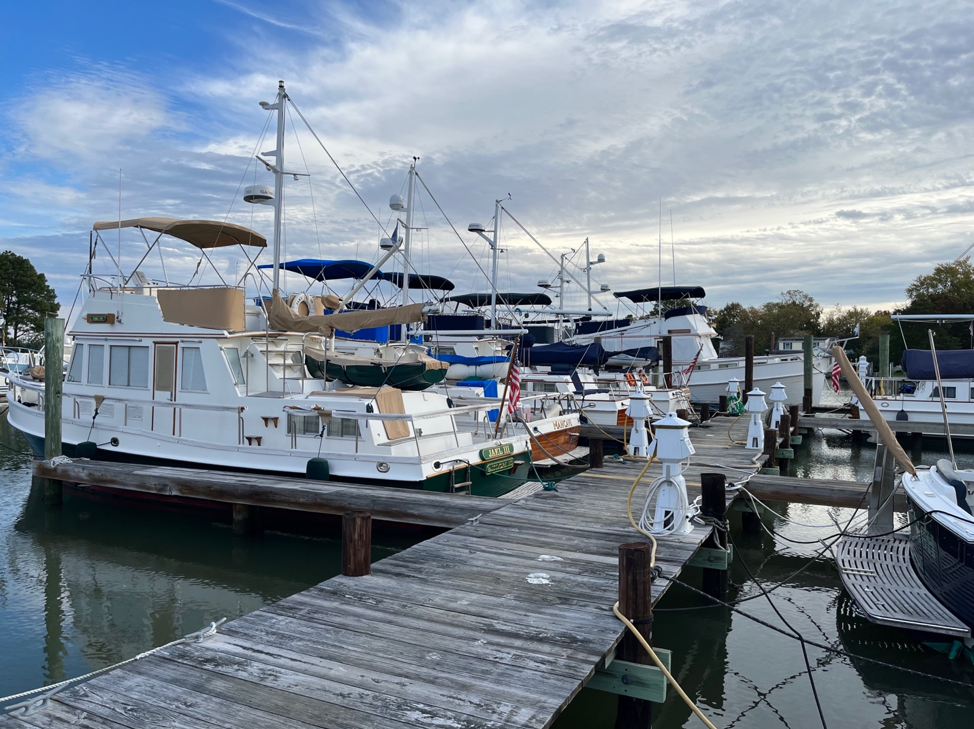 Winter is knocking on the door, and if you own a yacht in the Chesapeake Bay area, especially North of Solomons Island, MD, it's time to think about winter storage. Storing your boat for the winter might sound straightforward, but there are several considerations to keep in mind to ensure your vessel remains in top shape for the next season. Here's a comprehensive guide to answer all your questions:
1. Non-Perishable Food Storage:
Yes, you can leave non-perishable food on board if they are in cans or sealed bins. However, avoid storing items in bags or any container that can be easily chewed through. Remember, a storage shed might be clean, but pests are crafty.
2. Clothes Onboard:
Wondering about mildew? Winter air in Oxford, MD, tends to be drier, and the storage temperature will likely hover around 55 degrees. So, you can leave your clothes onboard without worrying about mildew. However, it's advisable to remove anything that can absorb odors, like clothes and bedding. Doing a yearly clean-out also prevents the accumulation of items that might get forgotten.
3. Draining the Water System:
Even if there's no fear of freezing in the storage facility, it's a good practice to empty the water tank and blow out all the lines. You don't want stagnant water sitting in the system all winter. Some boat owners also opt to run cheap vodka or a water-vinegar solution through the system to ensure cleanliness and to combat potential odors. And as for rust worries? It's not a common concern in well-maintained storage facilities.
4. Through Hulls and Critters:
The good news is that a well-maintained storage shed should not have a significant critter problem. So, using bronze wool in the through hulls might be unnecessary. However, always ensure that the storage space is clean and well-maintained.
5. Oil, Fuel, and Pumpout:
Changing the oil and filling the fuel tanks with stabilizer is essential. Pump out any waste systems, and consider flushing them with clean water or a solution to prevent odors. Some boat owners prefer to fill their tanks in the spring with fresh fuel rather than letting it sit all winter.
6. Batteries:
Disconnecting batteries is a wise move. However, if you're frequently at the storage facility, turning off the switches might suffice. Ensure your batteries are fully charged and separate them if they are wired in parallel or series.
7. Wrapping and Dust:
Is wrapping your boat in light plastic worth it? While it might seem overkill, it can help reduce dust accumulation, especially if the yard conducts work over the winter. However, check with the yard about their policies. Some believe that airflow is more crucial than a bit of dust, so cracking open hatches might be more beneficial.
8. Other Preparations:
Ensure you have easy access to your boat, perhaps with a ladder. It's also a good time for a thorough bottom power wash and to inspect all underwater gear. Remove valuables, tape the plug to the wheel, turn off propane tanks, and keep the fridge door slightly open. A thorough cleaning of the boat's interior and ensuring bilges are dry can also prevent stale smells. Some boat owners use dryer sheets spread throughout the boat to maintain a fresh scent.
In conclusion, winter storage for your yacht in the Dickerson Harbor Boatyard in Trapp MD, near Oxford, MD, requires careful consideration and preparation. By following these guidelines, you can ensure that your vessel will be ready to hit the waters again come spring! Safe storage and happy sailing! Give us a call at 410-822-8556 to see if we have storage spaces available.