Grand Banks Parts
Northern Lights 5KW Generator Model M673D-3 with 7 Hours
5KW Northern Lights Marine Generator for sale. Almost new, only 7 hours. Model M673D-3. Generator was for a project boat that was never finished. Guaranteed to run. Ships from North Carolina.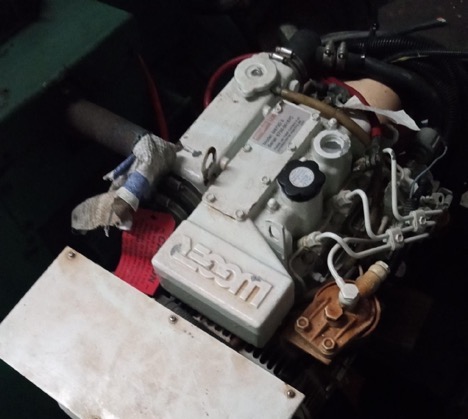 Grand Banks Parts – Northern Lights 5KW Generator Model M673D-3 with 7 Hours
$4,950, plus shipping
Another quality Grand Banks part for sale from our inventory of high quality used equipment. This almost new Northern Lights generator was purchased for a project boat that was never completed. It's offered for sale as is but guaranteed to run. It could benefit from a paint job but is in excellent condition and ready to install.
Northern Lights M673D-3 Generator
5KW
7 Hours
3 Cylinder Luger engine
1800 RPM
Height 19.6″, Width 17.2″, Length 26.9″
Dry Weight – 352 lbs
Built with the highest quality by Northern Lights for the tough marine environment. This is a sturdy generator that will be durable, reliable, and simple to use.
The M673LD3 was built for reliability. Grand Banks owners have been installing these in their fine yachts for years. Producing 5 kilowatts at 1800, instead of 3600 rpm, overall engine wear is reduced, and a quieter operation is achieved. The generator's automatic voltage regulator delivers fast response for smoother load changes.