Chesapeake Bay Catamaran Center
Extra Care for Your Catamaran
Learn about the Chesapeake Bay Catamaran Center and our full list of services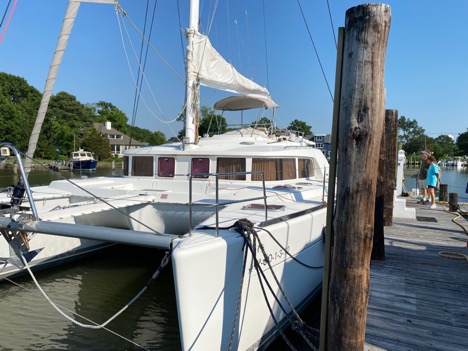 Catamarans are unique in their service needs for several reasons. They have lots of gelcoat and fiberglass work in all parts of the boat that can cause minor stress cracks to more major cracks in the hull. They are often sailed hard offshore and take a beating. With modern production boats, the more serious hull issues are significantly fewer. But still, we see them routinely during haul outs. With so many hatches, those can often need routine maintenance and the older boats often need them removed and re-bedded or replaced. Sail drive units require an extra level of service to sustain their reliability. Because they are designed for and used a lot in the tropics, we see a lot of air conditioning issues as well. Catamarans are very sought after in the used boat market, so keeping them well maintained pays for itself in the long term.
Early catamaran designs were often plagued by structural issues in the hulls and supporting structures. They are forced by the hydrodynamics to be lightweight and yet strong to be fast and sail well under all weather conditions. In older boats we still see these issues, but the more modern production boats have solved these issues. Because of the lightweight design and high performance demanded from them, catamarans are by nature a bit more fragile than their monohull cousins. Dickerson Harbor and our Chesapeake Catamaran Center is an experienced boatyard that has seen these problems and done repairs on catamarans for years.
Fine yacht care is essential in these high-performance cruising catamarans
A yard like Dickerson Harbor brings over 50 years of experience maintaining Grand Banks trawlers and Eastbay downeast boats. The Dickerson Harbor yard was still designing and building its own line of monohull sailboats up until the 1980s. The repair pedigree of the yard is probably the best on the Chesapeake for any fine yacht, sail or power.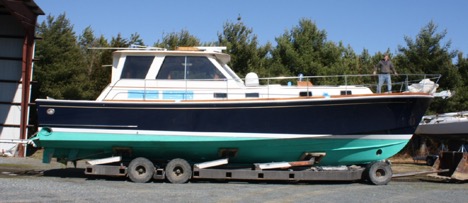 The important catamaran yard capabilities at the Dickerson Harbor Chesapeake Catamaran Center include:
Extensive gelcoat and fiberglass repair – expertise from on-site employees
Painting with Pettit, Interlux, SeaHawk and other bottom coatings. Speed drive system coatings, inflatable bottom painting and antifouling coatings
Hatch service
Yanmar, Volvo, Cat, and Cummins engine maintenance
Onan, Westerbeke, and Northern Lights generator repairs and service
Air conditioning systems (12V, 24V, 120VAC, and 220VAC)
Victron inverter sales and service
Electrical system troubleshooting and modernization
Battery and charger system upgrades. Battery testing with modern systems. Replacement or upgrade at competitive prices
Electronics upgrades by Furuno, Garmin, Raymarine, and Simrad
Alternator maintenance and upgrades with Blue Seas, Balmar, AC Delco, and OEM alternator systems
Fuel system repairs and modernization including tank replacement at very affordable prices. Aeroquip fuel and oil hoses manufactured with reusable crimped ends
Injector, high pressure fuel pump, and fuel filter system repairs
Fuel tank cleaning and repairs
Victron, Furuno, Garmin, and Raymarine trained technicians on site
Autopilot drive replacements
Fresh water systems from food grade tank replacement to system modernization
Plumbing repairs with crimped PVC over brass fittings for long life
Water makers and filter system
Lewmar hatch repairs including lenses with better sunlight filtering and glare reducing acrylic materials
Groco through hull fittings, valves, and strainers
Service on propellers of all sizes and types
Air conditioning and refrigeration on all marine models
Awlgrip painting including a full hull paint building and a small parts paint booth
Ultra Hi Gloss by Nautical Choice including premium high efficiency coatings. Longer laminate life with synthetic materials and careful maintenance
Rigging services of all types
Haul out by crane and the yard's own rigging spreader system
Travel Lift haul out available in the fall of 2022 for up to 29 ft beams
Storage of your catamaran yacht is also very important, and Dickerson Harbor offers several great options depending on your needs. Dickerson Harbor is a well-known hurricane hole, one of the best on the Chesapeake Bay. You can choose from:
Indoor storage including heated storage in the winter after un-stepping your mast
Outdoor storage in our Dickerson Harbor 2-acre catamaran storage lot
Slip storage in Trappe Creek (at the Dickerson Harbor yard) in one of four extra-wide catamaran slips
Slip storage in downtown Oxford MD at the Oxford Yacht Agency marina; 2 catamaran slips available