Grand Banks Trim Tab Cylinder Replacement
We routinely replace the rams on Bennett Trim tabs (as well as other brands). Also, the hoses often need to be replaced. Many of the problems we encounter (but not all) have to do with paint build up on both the cylinders and the tabs themselves. We have seen the tabs with paint built up on the hinges to the point where the tabs won't move as intended. This creates undo pressure in the system which can burst hoses. Also, yards who are not used to painting trim tab systems will encrust the cylinders with paint to the point where the plunger will not retract into the cylinders – effectively disabling the system.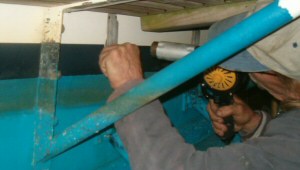 If you are replacing your Grand Banks trim tab cylinders, they normally come with hose. We don't use this hose as it is pretty light weight stuff. Instead we order heavier hydraulic hose which will last much longer with less chances for bursting.
We are also able to increase the surface area of your tabs for optimal performance of your trim tab system. If you are planning a Grand Banks trim tab cylinder replacement, give us a call for consulting or help with the job. Download a
Bennett Trim Tab Owner's Manual